Australian Universities Fair
Meet top Australian Universities in Bangalore
Date: September 23 (Saturday)
Location: OES Office, Bangalore
Find Out More
Overseas Educational Services (OES) : Leading consultants for students looking to study in Australia, UK and New Zealand
Pioneers in the field of overseas educational consulting
OES was established in 1991 with the purpose of providing quality guidance to students who intend to study abroad. Today, we are the leaders in educational consultancy and specialise in admissions to leading universities in Australia, UK and New Zealand. With more than two decades of experience in counselling students looking to study abroad and having helped over 10,000 students gain admission in universities overseas, we assure you of a very professional service.
Comprehensive services for students looking to study abroad including admission and visa assistance
Our experienced counsellors will provide you with guidance every step of the way - right from giving you a detailed overview of the courses available, exams that need to be taken for admission/visa purposes and the cost of studying in your chosen country to assisting you with getting your admission and visa (including preparation and verification of visa documents and following up on visa applications with embassies).
If you would like to find a course/university based on your personal background and preferences please click here.
News: OES wins Best Undergraduate Consultants Award AGAIN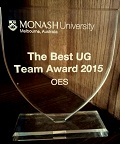 OES was awarded Best Undergraduate Team by Monash University in September 2016 for the second consecutive year. We thank our students and will continue to do eveything we can to provide all our students with the best possible guidance in their journey to study abroad
Our office is located in Bangalore on MG Road
The OES head office is located in the heart of Bangalore - in Barton Centre on M.G. Road. This office caters to students from Bangalore as well as all other parts of Karnataka.
Please note that we have ONLY one office in Bangalore and it is in Barton Centre on MG Road.
Also, do note that we do not charge our students any fees for any of our services.